Traditional Victorian Stalls for Hire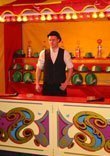 A traditional fun fair is about much more than just rides! With nostalgic fairground games available including Hoopla, Hook the Duck and Coconut Shy stalls to rent, plus a stand selling fresh popcorn, we can make your event one to remember – for all the right reasons. Take a look at the wide range of games and attractions which we have available.
Traditional Funfair Rides for Hire

These old favourites have stood the test of time, which is why we offer a fantastic collection of exciting funfair rides that will thrill young people and the older generations alike. Big Wheels, Waltzers and Dodgems are all available to hire from Irvin Amusements.
CATERING UNITS, GAMES, STALLS AND FUNFAIR RIDES FOR HIRE
Irvin Amusements are a long established company of funfair operators offering attractions and funfair rides for hire at private, fundraising and corporate events across the UK. We offer both traditional funfair rides for hire including carousels and dodgems along with more modern offerings such as rollercoasters and the Skymaster.
We also have a range of Victorian style fairground side stalls which will entertain guests of all ages. We can also provide food stands such as popcorn and candy floss stalls. Experience the complete Benny Irvin Funfair experience.