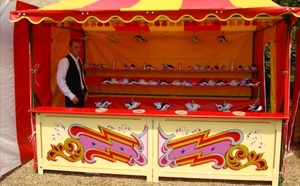 Hoopla
The hoopla stall is one of the most well known stalls that you will find at a funfair or fairground.
Toss the hoop and if you get it onto the peg you'll win get a prize
Hoopla's aren't just for the funfair, they are great for music concerts, corporate events and parties. If you are interested in hiring the hoopla stall, contact Irvin Amusements. Other Victorian stalls for hire include ball in a bucket.
Watch the video on the left to see the Hoopla in action