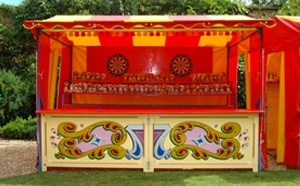 Darts Challenge
Aim to score high in the darts challenge! This stall is a firm favourite at funfairs, carnivals and fairgrounds.
Anyone can play this fun filled game, just aim your darts and fire away.
If you are interested in the darts challenge, or any of our other Victorian stalls to hire, including the basketball challenge, contact Irvin Amusements.
Watch the video on the left to see the darts challenge in action!